Recently, I've found a mascara that I REALLY like and looked back on my mascara history. I realized that I've used 15+ mascaras in my life! Some of them I bought and used multiple times but there were always one or two things missing. This time, I've found no drawbacks so far from this one, the best Korean mascara that I've used. I also think now I'm clear on my preference for mascara.
I hate a mascara that crumbles
I prefer natural but not too much natural lashes with mascara on (yes, this is very subjective)
So here I am with a 'mascara positioning map' completely based on my personal experience. And I made them into 4 groups to better share my experience of each mascara.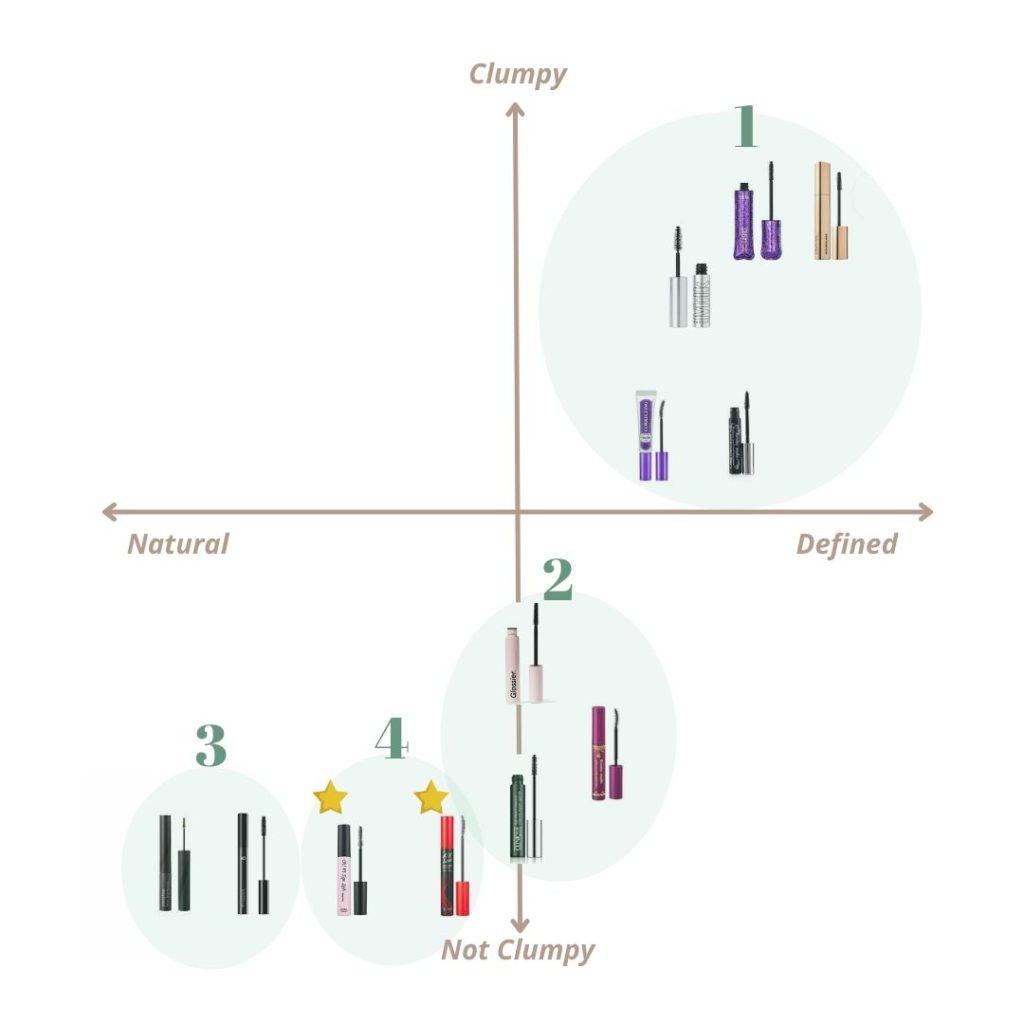 Group 1 – "Volumizing but Crumbling"
Hourglass CAUTION Extreme Lash Mascara, $30
Tarte Lights Camera Lashes 4-in-1 Mascara, $23
These two mascaras were very popular a couple of years ago, and maybe now they are still. (Are they?) I've heard so many compliments about them that they dramatically volumize and lengthen your lashes. So I bought them. I've liked the first few times as they did make difference but they crumbled. They were clumpy. They crumbled to the extent that my eyes look a bit messy. They felt heavy and the life of my lashes were gone by the end of a day. I couldn't find a reason to re-purchase them. And they are pricy too!

Milk Makeup Kush High Volume Mascara, $25
I had received a mini size of Milk Makeup Kush High Volume Mascara from Sephora as a birthday gift.This one was slightly better than the ones above from Hourglass and Tarte, but still I did not enjoy using it. It was clumpy and made my lash lift go away quickly.
Holika Holika Lash Correcting Mascara 02 Define Volume, $12
I had seen a couple of Youtube videos where Korean beauty influencers recommending this product so I bought it. Well, I think it could work great but you just have to really pay attention when you're applying it. I experienced it makes my lashes clumpy and thick if I applied it with the regular 'strength'. When I applied it very lightly several times, it worked ok. Shop at YesStyle / Stylevana
Kiss Me Heroine Make Mascara Super Waterproof – Volume & Curl, $14~
So the Kiss Me Heroine Make Mascara Super Waterproof has two types: Volume & Curl, and Long & Curl. What I've used is the Volume & Curl one. It worked great when I applied it very lightly, grabbing it weakly. Otherwise, it would get clumpy a little. It was hard to remove it though even with a lip & eye remover. Shop at Stylevana / YesStyle / Olive Young
Group 2 – "Well balanced" 
Glossier Lash Slick, $16
I had heard all the hypes about this product and it actually turned out to be one of the most satisfying purchases that I made from Glossier. (side note: for me, boy brow wasn't impressive to me…) It felt like it nicely 'films' my lashes, not too thick nor thin. It was quite easy to remove with a regular lip & eye remover. 
Kiss Me Heroine Make Mascara EX, $12
Indeed, this was once 'everybody's mascara' in Korea about 7~8 years ago. Whenever I looked up for the best mascara, this one came up in blogs, reviews, and even from conversations with my friends. I enjoyed using this product. Why? It lasted long and my lashes stayed really firm just as in the morning right after I applied it.
I really liked the product but there was a huge con that I could not bear with; it is SO hard to remove with a regular lip & eye remover. They've had  their own remover specifically for this mascara but I haven't used it. I'm not that committed to this product if I have to buy a remover for it. Shop at Olive Young.
Clinique Lash Power™ Mascara Long-Wearing Formula, $21
In contrast to the Kiss Me Heroine Make Mascara EX, I loved this product because it's easy to remove although it also lasts long and well. I would say it makes your lashes less firm or hard compared to Kiss Me one so it might look and feel more natural – as a result, not clumpy. It feels light not to make your lashes heavy.
Group 3 – "Bare Minimum"
Innisfree Skinny waterproof zerocara, $12
It does have a very "skinny" wand which makes the application super natural and subtle. It feels almost like you're wearing nothing on your lashes, thus, to me, the result is too subtle. I rather enjoy using it for under lashes as the brush is small enough to apply in detail. Shop at YesStyle / Stylevana
Missha 4D Mascara, $6~
I remember first using this product over 10 years ago now(!) so this is definitely a flagship, steady-seller of MISSHA. It is a decent waterproof mascara with which you can make your lashes look naturally defined. It applies 'clean' and light. It is hard to beat its price as well! Shop at Stylevana / YesStyle
Group 4 – "Daily Mascara"
👑 ETUDE – Oh! M' Eye Lash Black Tint, $8~
I contemplated if I should put this under the "Bare Minimum" category, meaning it is also on a natural side. However, I think Oh! M'Eye Lash Black Tint gives you a more defined look with a clean, niceblack color. Its texture is more like liquid compared to the other mascaras so it doesn't clump and also very easy to adjust the amount you'd like to apply. I found it ok to apply 2~3 times. It also lasts and holds the curl of the lashes long. It has been my favorite daily mascara of all time; I've been using it for over 8 years! I strongly recommend it to anyone who looking for a daily mascara with a very reasonable price. Shop at YesStyle
👑 CLIO Kill Lash Superproof Mascara – Long Curling, $10~
This mascara is the one which motivated me to write this post. CLIO Kill Lash Superproof Mascara (a.k.a CLIO red cap mascara) has quickly become my another daily mascara since last Summer. I had seen so many Youtube videos praising this product and I could confirm it really is an ideal mascara after using it for 6 months+ now. It lengthens the lashes, but curls at the same time and lasts firm and long. It indeed is a waterproof as it didn't smudge at all after I swam at a lake. With these powerful features it is removable with a regular lip & eye remover, which is so nice and why I rate this product high! I just love this mascara and rotate it with the ETUDE Oh! M'Eye Lash Black Tint by goal of a makeup. CLIO Kill Lash Superproof Mascara gives you more defined look than the Etude one. Shop at Olive Young / YesStyle / Stylevana
I hope you found this post helpful in selecting a mascara you need. Overall, I found mascaras that have "long" or "lengthening" claims work better for me than the ons with "volume" or "volumizing" claims. I'd also love to know what is your favorite mascara. Or is there any mascara you've heard is good? Let me know in the comments below!