This post consits of:
Dokdo Toner Information
Dokdo Toner Ingredient
Dokdo Toner Review
Dokdo Toner Information
Full Product Name: 1025 Dokdo Toner
Why 1025 in the product name?

October 25th is Dokdo Day in Korea. It is to commemorate the fact that Gojong the emperor designated Dokdo as a subsidiary island of Ulleungdo, on October 25th, 1900, indicating that Dokdo is Korea's territory.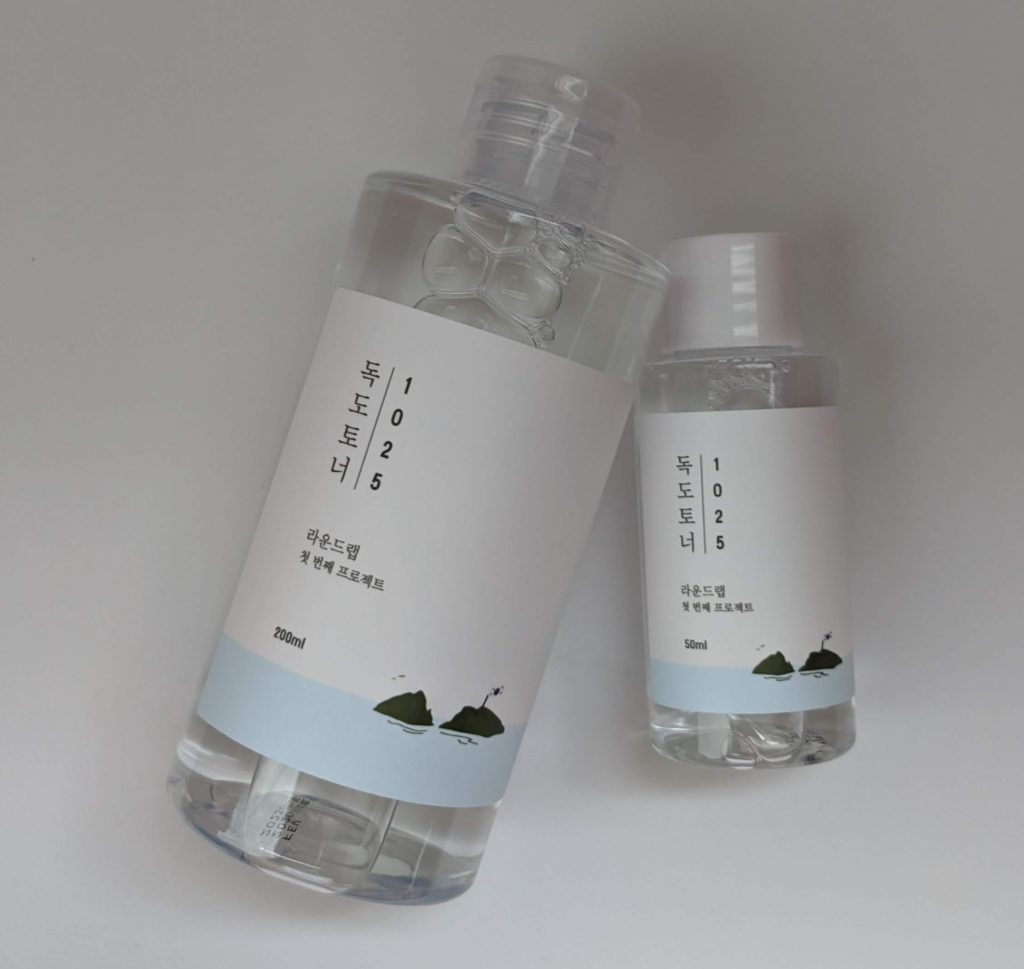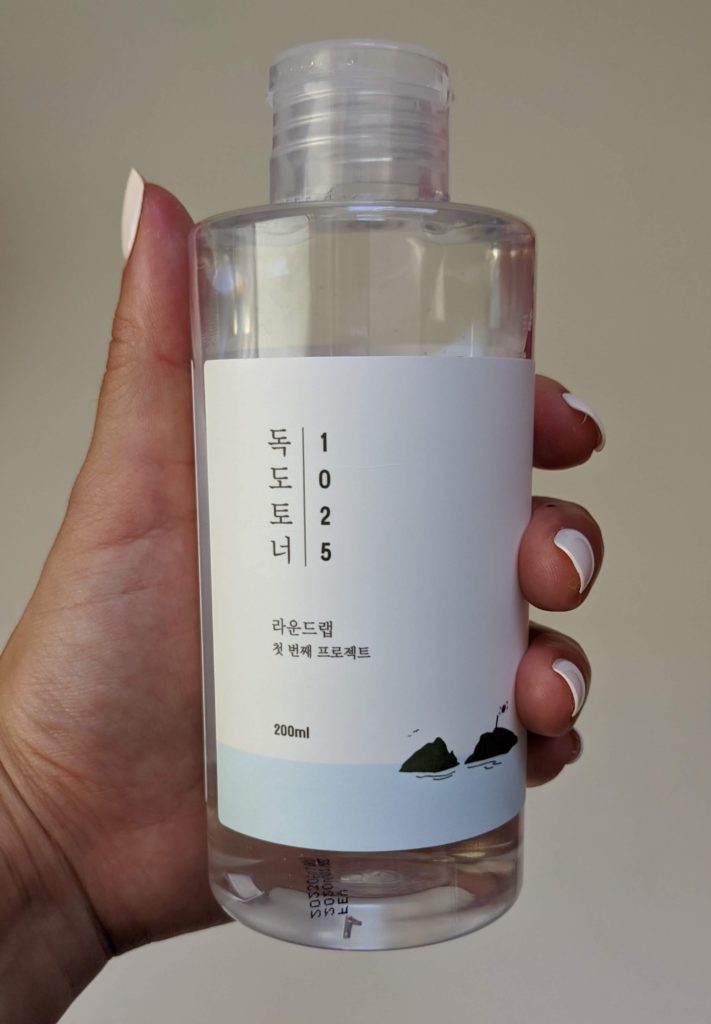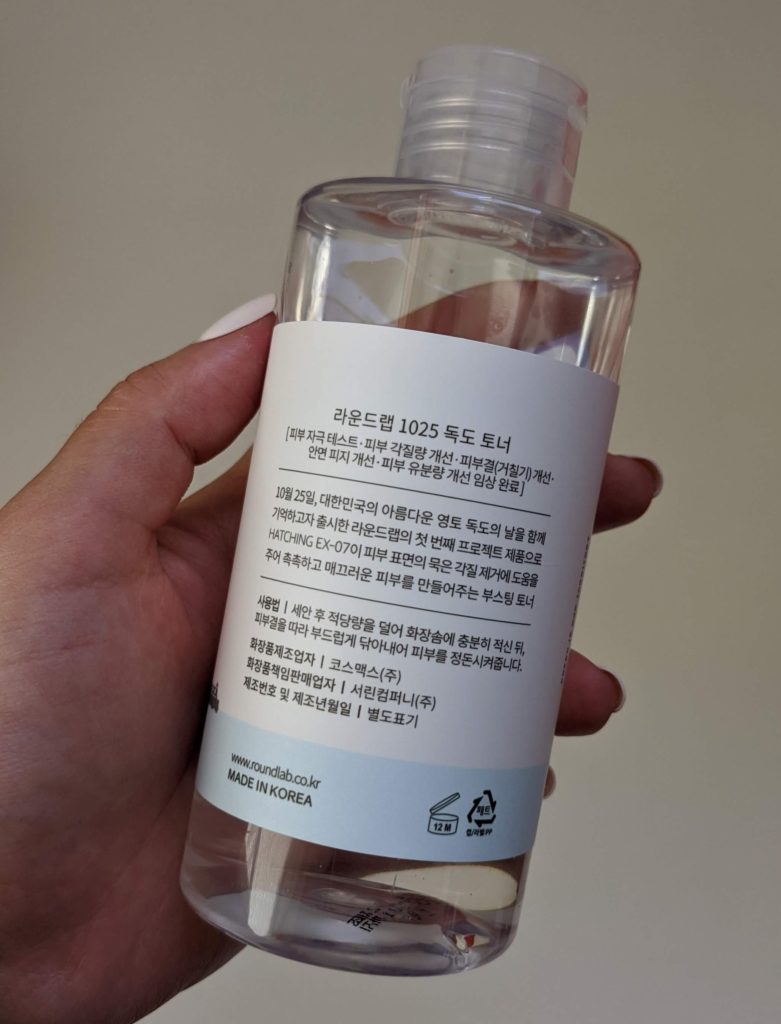 Claims:

Improve skin texture
Reduce sebum & oil
Exfoliation
Hydration

Texture & Scent: watery but moisturizing, no scent, no color (transparent)
Quantity: 200ml & 500ml
Price: $18 (200ml) / $33 (500ml)
Ranking & Awards:

Hwahae Ranking #3 in toner/serum/moisturizer category
Hwahae Beauty Award #1 in toner category (2017 – 2019)
Unpa Beauty Review Winner in toner category (2018 H2)
Clinical Test Results: In a clinical study of 20 subjects, after 6 days:

90% of subjects saw a smoother skin
90% of subjects saw reduced oiliness
90% of subjects saw more moisturized skin
85% of subjects saw removed dead skin
80% say reduced sebum
Dokdo Toner Ingredient
All the ingredients of Dokdo Toner fall under the Low Hazard category defined by EWG. I do not see any noticeable concern over the ingredient list.
Full Ingredient List
Purified water / Butylene glycol / Glycerin / Pentylene glycol / Propanediol / Irish moss extract / Sugarcane extract / Seawater / 1,2-hexanediol / protease / betaine / panthenol / ethylhexyl glycerin / allantoin / xanthan gum / disodium EDTA
Dokdo Toner Ingredient Drill Down
Butyelene Glycol: as a humectant/solvent/emollient, it retains moisture, dissolves ingredients, and improves application.
Glycerin: Also called glycerol, glycerin is present in all natural lipids (fats), whether animal or vegetable. As a humectant, it has the property of attracting water to itself.
Irish moss extract: Irish Moss Extract is a natural extract of Chondrus Crispus. Irish moss is a red algae which can be used for anti-aging, as an emulsifier and skin smoother.
Sugarcane extract: commonly used as an antiseptic and works as a natural exfoliant that helps the skin remain smooth
Seawater: Seawater contains minerals that our skin needs including magnesium, potassium, calcium, selenium, sodium, and sulfur. Maintaining proper mineral levels in the skin is important for cell function and healthy skin.
Protease: Protease is a microbiological extract that exfoliates, promotes cell regeneration, and minimizes skin imperfections. It appears as a very good substitute for Alpha Hydroxy Acids (AHAs) and can be recognized as an excellent activie for anti-aging.
Betaine: Betaine is an ingredient that works to balance the skin's hydration.
Panthenol: Panthenol acts as a lubricant on the skin surface, which gives the skin a soft and smooth appearance.
Allantoin: Allantoin is a white odorless powder. It functions as a skin-conditioning agent and a skin protectant
Dokdo Toner Review
Testing period: I have been using the product since 9/23/2020 to now (10/13/2020) so it's been little less than a month
Frequency: I have been using it twice daily, morning and night
My skin type: I have combination skin where forehead/nose/chin area being oily and cheeks being slightly dry
Why did I try this product?: It's been a steady best-seller in the toner category in Korea so I was always curious if it really is that good. I was also hoping to see plumper skin by using it.
What I like about Dokdo Toner
#1 Smooth during & after use
Since some reviews said it is just like water and does nothing special, I had like 50:50 expectation on this product.
However, it is not completely watery; it definitely has a subtle moisturizing texture so it applies to your face very smoothly when used with a cotton pad. I also feel my skin smoother after use. It seems to have a subtle exfoliation effect as the product claims. I see slightly reduced whiteheads since I've used this product.
#2 Package
I really like how its bottle look like. With its very narrow injection hole, I can control the amount of liquid easily.
#3 Price
Price is reasonable. I purchased 200ml + 50ml set at $12 when it was on sale at Olive Young. Compared to the toners of the major US brands (e.g., Kiehl's Calendula Toner $40 for the same quantity), it is beyond reasonable!
What I dislike about Dokdo Toner
Nothing!
Rating ★★★★★
I will definitely buy this product again. I'll probably settle with this one for a while.
Shoppable at: RoundLab / Stylevana US / Stylevana UK / Amazon US
*Disclaimer: All products I review on my blog are 100% purchased with my own money. Any press sample, paid partnership as well as personal gifts will be identified. This blog contains both affiliate and non-affiliate links and clicking the former before you shop means that this blog may receive a small commission to assist in this blog supporting itself.