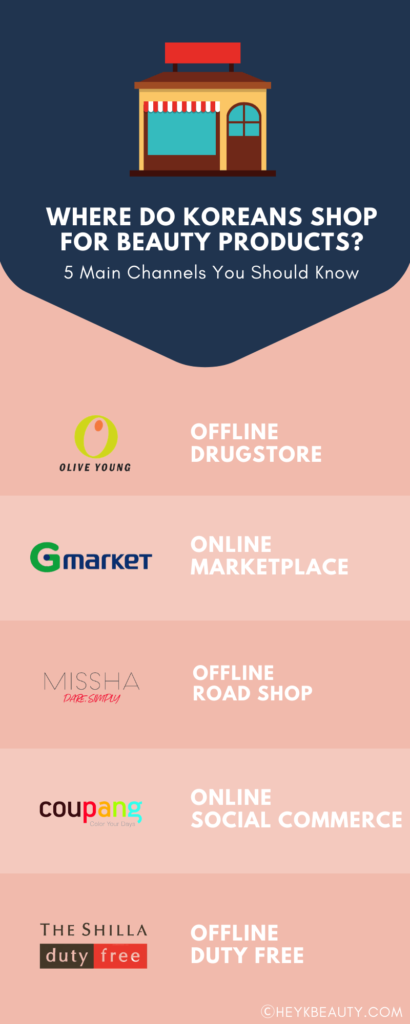 Where do Koreans buy beauty products? Find out the 5 major beauty shopping channels in Korea
From drugstores to road shops and duty free
Drugstores (Offline)
Drugstores in Korea are a little different from what they look like here such as Walgreens or CVS. They do sell OTC drugs but the main items are beauty products, snacks, and small household items. The market leaders in this field are…
Olive Young (by CJ)
LOHBs (by Lotte)
Lalavla (by GS)
There are over 1,000 Olive Young stores nationwide so you can easily see them if you walk down almost any street in Seoul.
Marketplaces (Online)
Korean eCommerce market, like the beauty industry, is highly competitive with multiple players. It started as two main forms – "Marketplaces" (e.g., Amazon, eBay) where independent sellers directly sell the products to the customers, and "Social Commerce" (e.g., Groupon) where the platform has more ownership to curate/select products for the customers. Now it is hard to differentiate those two in Korea as social commerce platforms evolved to play as a marketplace as well. Anyways, the key players of the online marketplaces are…
Gmarket
11st
Auction
Interpark
Now the traditional department stores (e.g., Nordstrom) and tv home shopping (e.g., QVC) are rapidly catching up in the field by aggressively transforming themselves as the online channel. Therefore, the below players are also becoming mainstream.
SSG
Hmall
CJmall
GSshop
Lotte
Road Shops (Offline)
I believe this term was created in Korea but it basically means the flagship stores of a handful of low price, mass beauty brands. When I was a teenager, the brand like Missha and Etude House (now Etude) started to emerge and their stores were opening up literally EVERYWHERE. I would say road shops were the number one go-to channel for beauty shopping only a few years ago. They were so sensational as they provided decent quality products at a very attractive price. I myself visited the stores anytime when I was coming back home, going to school and tested so many products. My mom used to call me to ask where I was since I always told her I would arrive home soon but once I stopped by Missha store near home, I easily ended up wandering around the aisles for 30 minutes 😉 They ran and still run 50% off or buy one get one free promotion pretty frequently. This kind of unhealthy practice led the whole market unprofitable – once successful brand "Skin Food" filed for rehabilitation in 2018 – but I hope them to find the way to profitably grow together. Anyways, they are still a significant part of the leaders of K-Beauty and the main players are…
Missha
Innisfree
Tony Moly
The Faceshop
The Saem
Etude House
Nature Republic
Skinfood
Holika Holika
It's Skin
Social Commerce
Social Commerce literally means that the eCommerce combined with social network element. There would have been other types/sites previously, but in Korea, the first major wave started since 2010 with the introduction of Groupon. Users could buy products or services at a deeply discounted price when enough users agreed to make the purchase. Soon after, the local services such as Ticket Monster (Now TMON), Coupang, and We Make Price started and still remain as the top 3 players in this area. Ironically, Groupon exited from the Korean market in 2014.
Even though they all started as social commerce platforms, now they all function as marketplaces. However, in Korea, these three still remain to be categorized as social commerce anyways. Coupang seems to firm its position as a market leader by differentiating itself with the heavy investment in the logistics. By its "Rocket Delivery" service, you can get same-day or next-day delivery and it is applicable to all the products that are selling in Coupang. It is also well known for getting investment from Soft Bank
Offline Duty Free
Duty free shops (also known as "travel retail") are the retailers where you can buy products free of local taxes/duties. You would have seen them in international airports or airplanes. Did you know that Korea is one of the market leaders in the world of duty free? It is definitely related to the rising of K-Pop as Chinese tourists (a majority of the shoppers of Korean duty free shops) have bought the K-Beauty products that were shown in the K-dramas. Lotte Duty Free, which is the number one domestic player is ranked as #2 globally. The Shilla Duty Free follows – it is the 2nd top domestic player and 3rd best world wide. The major/top three players in this area are…
Lotte Duty Free
The Shilla Duty Free
Shinsegae Duty Free
So you might want to ask, "Hey K-beauty, why do I have to know about all these channels that Koreans are shopping? I don't even live in Korea and what's in it for me?" Well, I think this could be helpful because we want to know what kind of products were "verified" by our picky Korean friends. At the end of the day, K-Beauty products are created in Korea to meet primarily the needs of Korean customers. Finding out the best sellers in Korea, real-time, could be one of the most objective and proven data sources. I will cover in my next post how to utilize this info more practically.