Have you ever wondered what are the best selling Korean skincare products RIGHT NOW? Ever felt the K-Beauty products that are introduced outside Korea are repetitive or outdated? Then this post is for you!
In my last two posts – Top 5 Beauty Shopping Channels in Korea Part 1 & Part 2 – I walked through 5 major channels and guess what? Most of them are available online. And if you're a Chrome user, you can easily get the sites translated with Google Translate. I picked the three sites you can easily get the bestseller list.
1. Olive Young
Olive Young could be the most reliable source for you to find out what Korean beauty shoppers are buying today. It has a very strong presence both offline and online in Korea. I also believe Olive Young shoppers are young, trendy, and more skincare/makeup savvy compared to Coupang or other general online marketplaces. So how do we land ourselves to its bestseller list?
Step By Step Guide
Type in

oliveyoung.co.kr

in the address bar
Turn on the Google Translate (here to find out how to activate it)
Click on "Best" and it leads you to the bestseller list
You can customize the list by choosing a category you would like to focus
Note that Olive Young provides the global site as well so if you don't want to narrow your search to the trend in Korea, feel free to use it. Or just check the bestseller or reviews in general from co.kr (Korea) site, and then make a purchase from the global site.
2. Shilla Duty Free
The advantage of duty free online sites is language. Since their customers are international, they let you choose the language from at least four options – English, Chinese, Korean, and Japanese. Note that if you switch the language though, the list of bestsellers also changes, and the reviews that are written in Korean are all gone. In general, the site with non-Korean language doesn't have enough reviews yet. So I highly recommend selecting the Korean in language and use Google Translator.
Step By Step Guide
Follow the link that leads you to Shilla DFS Best Shop which is a weekly bestseller list
Turn on the Google Translate (here to find out how to activate it)
Make sure that the box saying "sales rate" is filled in black/selected since that means the list is based on units sold
If you stop here, you will realize most of the brands are non-Korean. So if you want to limit your option specifically to Korean brands,
4. Scroll down a little more, and make sure "Domestic Brand" box is selected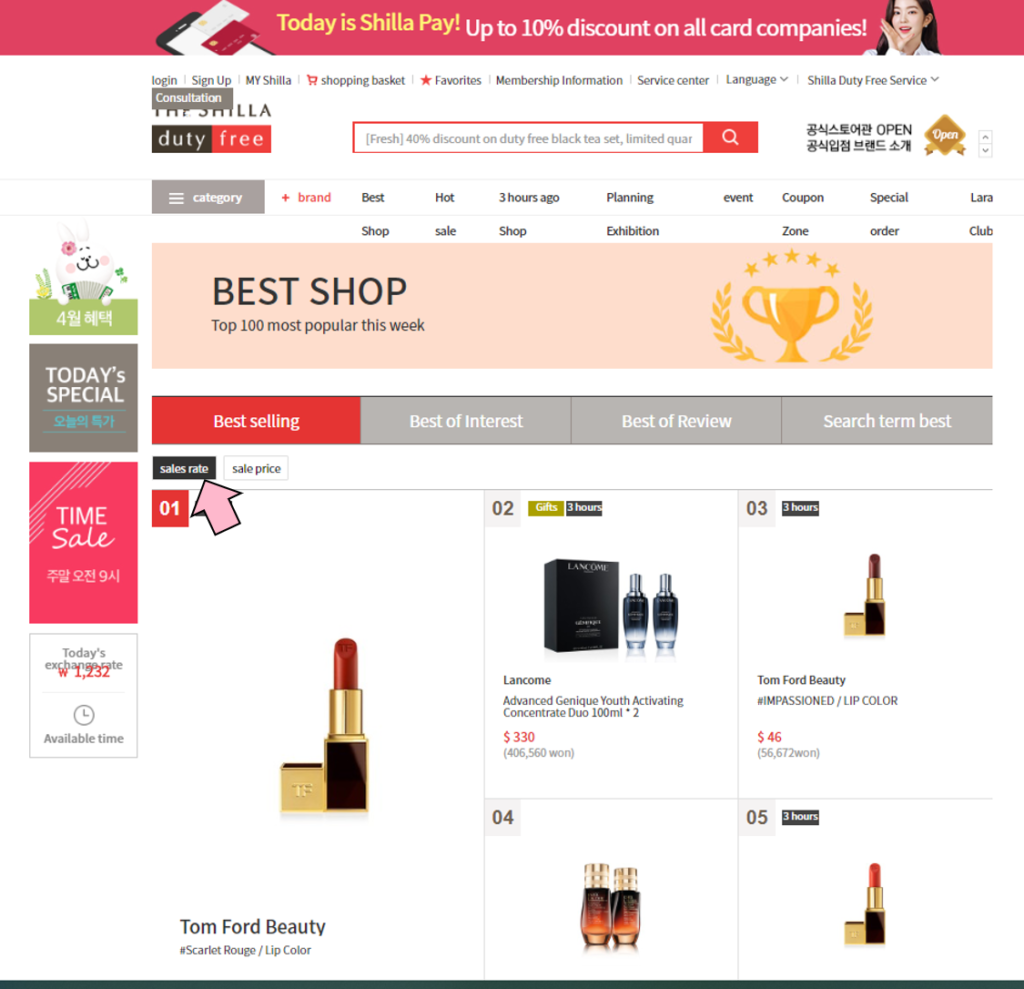 Please note that these are only good for you to quickly check the list of the bestsellers and the overall reviews around then since most of the product detail pages are in image type in those websites.
3. Bookmark Hey K-Beauty!
Sorry if I sound like hooking you girls/guys but I truly believe I could be the best support for you to find the best selling K-Beauty products. The above two sites are quick and easy ways to check the bestseller list and the overall review scores around them. However, when it comes to product details, Google translate doesn't work since most of them are embedded as images. Similar challenges for the review content – Google translate is not accurate in translating Korean slangs.
In addition, there are too many Youtube videos, influencers, or shopping sites that say the products they are introducing/selling are the best. I am not trying to criticize them but I just believe more in the statistics, specialized rankings, or customer reviews. I am planning to introduce these reliable data with you moving forward so stay tuned! Please also let me know any kind of product/brand/topic you want me to dig into. I'll be your best Korean, beauty junkie friend 😉