Illiyoon. I got to know about this hard-to-read brand name several years ago before it became one of the most sought brands for its hypoallergenic moisturizers. With its growing presence in the market with Ceramide Ato Lotion and Fresh Moisture Lip & Eye Remover, I got curious to use its products. And there I went, starting with Illyoon Ceramide Ato Lotion.
Illiyoon? Illyoon?
Spelling is so confusing but after reading this, you'll be able to remember it more easily. Illiyoon was re-branded from the brand "illi" in 2017. The original brand "illi" launched way back in 2012. Ok, now I remember it once went viral with its body products featured by Jun Ji-Hyeon.
It is also a brand under Amore Pacific Group, a beauty behemoth in Korea so you can find this brand legit. Ceramide Ato line, the brand's most popular line for sensitive skin, also launched back in 2015 so it has built enough time to be proven as reliable. So now, let's talk about the line's hero product, Illyoon Ceramide Ato Lotion.
Illiyoon Ceramide Ato Lotion
Illiyoon Ceramide Ato Lotion defines itself as a soothing moisturizer for sensitive skin. Fast absorption is one of its benefits to make it suitable for both face and body.
It does not have fragrance and the texture is not heavy.
It won multiple awards from Hwahae, Glow Pick, and Unpa since 2016. Especially for Hwahae Beauty Award, it won the body lotion category 4 years in a row since 2016.
Illiyoon Ceramide Ato Lotion Review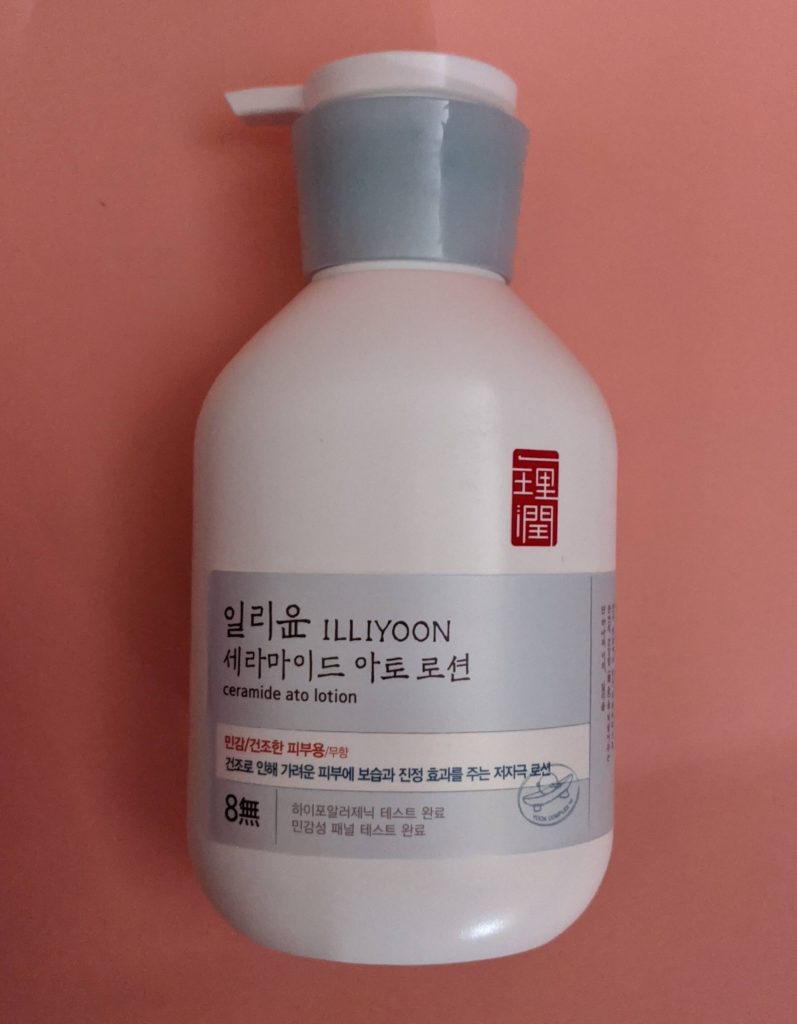 I started using Illyoon Ceramide Ato Lotion since October so it's been slightly over 3 months now. I used it every night at the last step of my skincare routine. Sometimes I used it in the morning when I felt extra dry.
What I Like about Illiyoon Ceramide Ato Lotion
First, it absorbs fast and well. I normally don't enjoy using moisturizers in the morning as my skin is combination / slightly oily, they tend to be too heavy. They end up preventing foundation or sunscreen from well absorbing. So I tend to use serums instead.
However, there were some mornings that I felt too dry solely with a serum so I had to use this product for better hydration. And I loved it! It absorbed very well and quickly not to create any hassle in the next steps of putting a foundation on.
Second, it is moisturizing yet not excessively heavy, and it is soothing. I was a big fan of Physiogel Daily Moisture Therapy Facial Lotion back in the days. For me, Illyoon Ceramide Ato Lotion became a great replacement for Physiogel's since it provides as much as hydration and soothing benefits. I haven't felt dryness or any irritation the next morning when I applied Illyoon Ceramide Ato Lotion at night.
Third, I like its package. Using double packaging, it is designed to prevent air from coming in while the inner package enables lotion to completely pump up so that no residue is left once consumed.
Fourth, It has a generous amount(350ml / 11.8oz) to use on your body.
What I Dislike about Illiyoon Ceramide Ato Lotion
Well, nothing particular. I would say it failed to recover the peeled skin around my chin – I even don't know what the reason is for this. However, since I wasn't expecting something beyond moisturization from this product, I don't think this is a problem.
Final Rating ★★★★★
"Effective, well-absorbing (thus versatile) moisturizer"
Shoppable at: StyleVana / StyleKorean
Illiyoon Ceramide Ato Lotion Ingredient
Illiyoon Ceramide Ato Lotion applied Ceramide Skin Complex technology where it capsuled ceramides to effectively delivered and absorbed to one's skin.
I don't see any notable allergens or concerning ingredients in Illyoon Ceramide Ato Lotion. However, if you have oily skin, you might want to make sure you haven't experienced any trouble with Shea Butter, Stearic Acid, Palmitic Acid, or Myristic Acid as these four ingredients have the potential to clog pores.
Full Ingredient List
Purified Water, Glycerin, Propanediol, Shea Butter, Cyclopentasiloxane, Hydrogenated Poly (C6-14 Olefin), Cyclohexasiloxane, Dimethicone, Cetyl Ethylhexanoate, Diisostearyl Malate, Hydroxyethyl Acrylate/​Sodium Acryloyldimethyl Taurate Copolymer, C14-22 Alcohols, Arachidyl Alcohol, Stearic Acid, Glyceryl Stearate, Palmitic Acid, Behenyl Alcohol, Glyceryl Caprylate, Butylene Glycol, C12-20 Alkyl Glucoside, Panax Ginseng Root Water, Arachidyl Glucoside, Ethylhexylglycerin, Sorbitan Isostearate, Polysorbate 60, Bupleurum Falcatum Root Extract, Angelica Acutiloba Root Extract, Ophiopogon Japonicus Root Extract, Myristic Acid, Hydroxypropyl Bispalmitamide Mea (Ceramide Pc-104 32.7Ppm), Mannitol, Lauric Acid, Acrylates/​Ammonium Methacrylate Copolymer, Perilla Ocymoides Leaf Extract, Cholesterol, Silica, Tocopherol
Ingredient Highlights
(Source: Prospector.com, Paulaschoice.com)
Shea Butter: Shea butter's abundance of fatty acids, vitamins, and minerals make it an excellent moisturizing product.
Panax Ginseng Root Water: Ginseng is a popular herbal supplement. When applied topically it delivers antioxidant benefits, boosts hydration, and helps visibly improve signs of skin aging.
Lauric Acid: It is one of several fatty acids found in coconut oil and other natural fats. It helps skin-replenishing.
Tocopherol: Tocopherol is derived from vegetable oils such as soybean and rape seed. It is used as an anti-oxidant for cosmetics.
Other Illiyoon Moisturizers
If you are looking for additional moisturizers from Illyoon, you have a wide array of options.
Within Ceramide Ato line, you can find soothing gel, water lotion, cream, lip balm to sheet mask.
Other than the Ceramide Ato line, Ultra Repair, Oil Smoothing, and Probiotics Skin Barrier Lines are available. Ultra Repair and Probiotics are the two popular lines.
Ultra Repair line is for very dry skin. Its products are basically Panthenol-based which helps strengthen skin barrier and hydration.
You can find lotion, cream, and cleanser within this line.
Probiotics Skin Barrier line is for sensitive, irritated (accompanied by redness, heat) skin. It is lacto skin complex-based to strengthen the skin barrier and soothing. You can find essence drop, cream, and cleanser to mask in this line.
Is Illyoon Vegan?
As of now (January 2021), Illiyoon seems not to identify itself as a Vegan brand. However, Illyoon Ceramide Ato Soothing Gel is a certified vegan product from vegan.org.
Illyoon Where to Buy
*Disclaimer: All products I review on my blog are 100% purchased with my own money. Any press sample, paid partnership as well as personal gifts will be identified. This blog contains both affiliate and non-affiliate links and clicking the former before you shop means that this blog may receive a small commission to assist in this blog supporting itself.