Torriden Dive-In Serum Review
Testing period: I have been using the product from 10/1/2020 to now (12/13/2020) so it's been a little over two months
Frequency: I have been using it twice a day, about 3~4 days a week
My skin type: I have combination skin where forehead/nose/chin area being oily and cheeks being slightly dry
Why did I try this product?

"Low molecular hyaluronic acid" has been a very hot keyword in Korean beauty landscape since last year. Many people were aware that hyaluronic was a beneficial ingredient for moisturization. However, some mega beauty influencers started to claim that low-molecular hyaluronic acid is more effective in penetrating deep into our skin so that it effectively hydrates our skin.
It still is controversial whether the low-molecular hyaluronic acid products are more effective in penetration and thus more powerful in hydration. Some experts argue that still the commercial products claiming to be low molecular are actually not sufficiently micro enough to be penetrated into the skin. They say the only way for hyaluronic acid to be penetrated to the skin is by direct injection.
Such popularity and controversy made me curious about the products. There were several other well-known products in this category such as Oligo Hyaluronic Acid 5000Da by The Lab by Blanc Doux. However, I ended up choosing Torriden Dive-In Serum since it has been an evergreen best-ranked product in Hwahae skincare category.
What I like about Torriden Dive-In Serum
#1 Fast absorption
As the brand officially claims and myriad or product reviews, it does absorb pretty fast to skin. I could see the difference when I compared with other serums. This is what I love most about this product and enables me to enjoy this serum in the morning. I can apply sunscreen or other makeup products right away.
#2 Light Texture
Along with the fast absorption, light texture is another point that I love about this product. It is watery yet moisturizing, but not sticky or leaves any residual feel at all. Another reason why I enjoy using it in the morning.
#3 Safe Ingredients
I did not find any concerning ingredients from this product including artificial fragrance nor pigments. According to the brand, the pastel, light blue color of this product is due to the natural color from Malachite Extract.
#4 Price
It is sold between $24.90 ~ $25.99 in YesStyle and Stylevana US, which I believe is very competitive compared with the serums from global brands such as Kiehl's or Clinique that start from $39.
What I dislike about Torriden Dive-In Serum
There is nothing I dislike about this product. Just one thing to mention though is that I haven't seen a noticeable change or improvement in my skin after 2.5 months of use. I would say Torriden Dive-In Serum is a good, basic hydration serum that can live in your routine at any time. Rather than a product as a special/concentrated treatment.
Rating ★★★★☆
Torriden Dive-in Serum Full Product Info
Full Product Name: Torriden Dive-In Low Molecule Hyaluronic Acid Serum
Claims:

Low molecular hyaluronic Acid & 5D complex hyaluronic acid enables fast and deep moisturization
Fast absorption without leaving skin sticky stickiness
D-Panthenol, Allantoin, and Madecasocide help skin soothing
Hydrating & nourishing

Texture & Scent: light and watery, no scent
Quantity: 50ml
Price: Around $25
Hwahae Ranking & Awards:

Hwahae Beauty Award #1 in essence/ampoule/serum category (2019)
Hwahae 2019 First Half Best New Product #1 in essence/ampoule/serum category
Glow Pick 2020 First Half Best New Product #1 in Water Essence category
Olive Young online best seller (2020 March)

Clinical Results:

In a clinical study of 31 subjects, after 4 days:
Proven to be not irritating
In a clinical study of 22 subjects, after 29 days:
Moisturization improved by 14.94%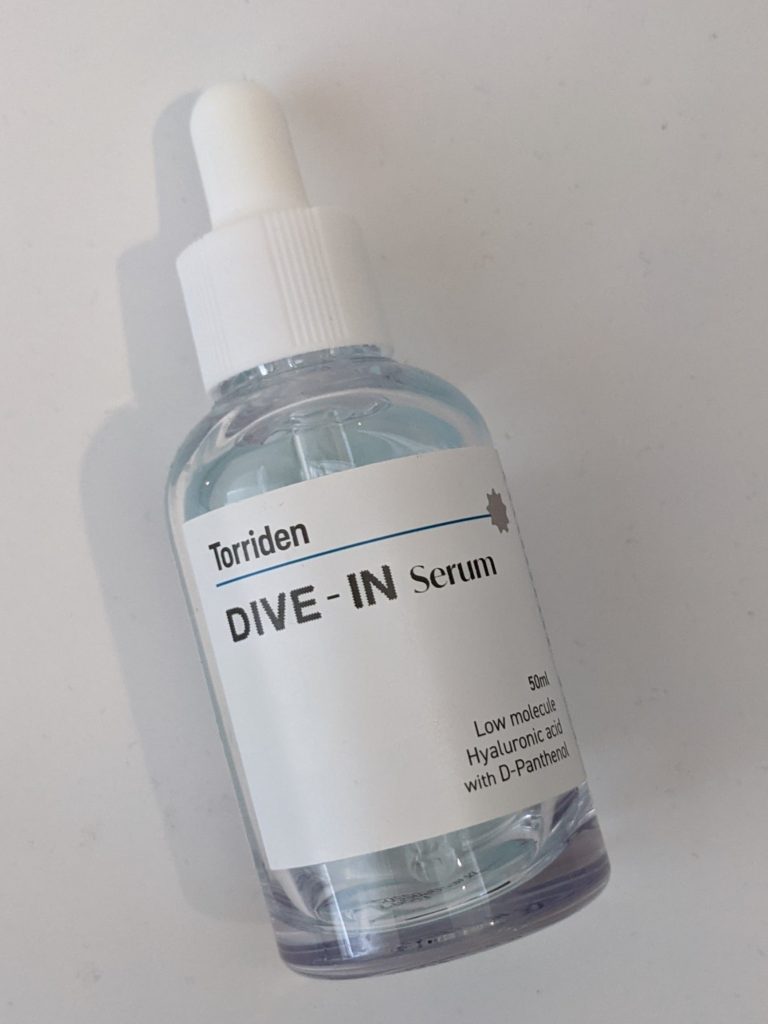 Torriden Dive-in Serum Ingredients
Full Ingredient List
Purified Water, Butylene Glycol, Glycerin, Dipropylene Glycol, 1,2-Hexanediol, Panthenol, Sodium Hyaluronate, Hydrolyzed Hyaluronic Acid, Sodium Acetylated Hyaluronate, Sodium Hyaluronate Crosspolymer, Hydrolyzed Sodium Hyaluronate, Allantoin, Trehalose, Betaine, Propanediol, Portulaca Oleracea Extract, Hamamelis virginiana (witch hazel) extract, Madecassoside, Madecassic Acid, Ceramide NP, Beta-Glucan, Malachite Extract, Cholesterol, Pentylene Glycol, Glyceryl Acrylate/Acrylic Acid Copolymer, PVM/MA Copolymer, Polyglyceryl-10 Laurate, Xanthan Gum, Tromethamine, Carbomer, Ethylhexylglycerin,Scutellaria Baicalensis Root Extract,Paeonia Suffruticosa Root Extract
Torriden Dive-In Serum Ingredient Drill Down
Blue: Hyaluronic acid derivatives, moisturization

Green: Soothing, good for skin-irritation
Panthenol: Panthenol is a plant-derived provitamin of B5 and has many beneficial uses to improve skin appearance because of its humectant properties. It helps soothe oxidative stress like redness, lines, and callouses.
Sodium Hyaluronate: Smaller molecular size than hyaluronate acid, Sodium Hyaluronate is able to hold up to 1, 000 times its weight in water—more than any other natural substance. Due to its small size, Sodium Hyaluronate, is exceptionally penetrative.
Hydrolyzed Hyaluronic Acid: It is a small molecule of Hyaluronic Acid (HA). It has not only good moisturizing property, but also activities such as transdermal absorption capability, nourishing the skin deeply, etc.
Sodium Acetylated Hyaluronate: Sodium Acetylated Hyaluronate is a specialty HA derivative. It has a fresh and not-sticky feeling that can provide superb moisturizing, repair skin barrier, improve skin elasticity, and leave skin smooth.
Sodium Hyaluronate Crosspolymer: It is a chemically crosslinked hyaluronic acid. It possesses an exceptionally high water-binding capacity resulting in excellent moisturizing abilities.
Hydrolyzed Sodium Hyaluronate: It has good moisturizing and lubricity. It can help get nutrition to the skin cells and makes the skin moist and elastic.
Allantoin: Allantoin improves the skin's moisture retention providing a smoothening effect.
Portulaca Oleracea Extract: is an extract of Portulaca Oleracea developed for sensitive and trouble skin. Anti-irritation, anti-inflammatory and cell protection from UV rays.
Madecassoside: It is a highly purified glycosylated triterpen of Centella asiatica. It is an active ingredient for use in anti-aging, sensitive skin, very dry skin and mature skin applications.
Ceramide NP: It is a ceramide that reinforces the skin's natural protective lipid barrier.
Beta-Glucan: It is suitable for sensitive skin care, baby skin care and reactive skin care. Through the topical application of beta-glucan, the natural protection systems in the skin can be revitalized. This results in the reduction of skin sensitivity.
*Ingredient information source: prospector, paula's choice
*Disclaimer: All products I review on my blog are 100% purchased with my own money. Any press sample, paid partnership as well as personal gifts will be identified. This blog contains both affiliate and non-affiliate links and clicking the former before you shop means that this blog may receive a small commission to assist in this blog supporting itself.