Park Bo-gum left Incheon International Airport to attend the Music Bank in Mexico on the afternoon of the 21st.
He's effortlessly combined a laid-back training ensemble with a trench coat, creating a effortlessly hip style. 👟🧥👌
Park Bo Gum's Celine trench coat is in a camel-colored gabardine fabric. This knee-length coat is made of cotton and boasts a loose-fit design, adding a touch of timeless elegance to his attire.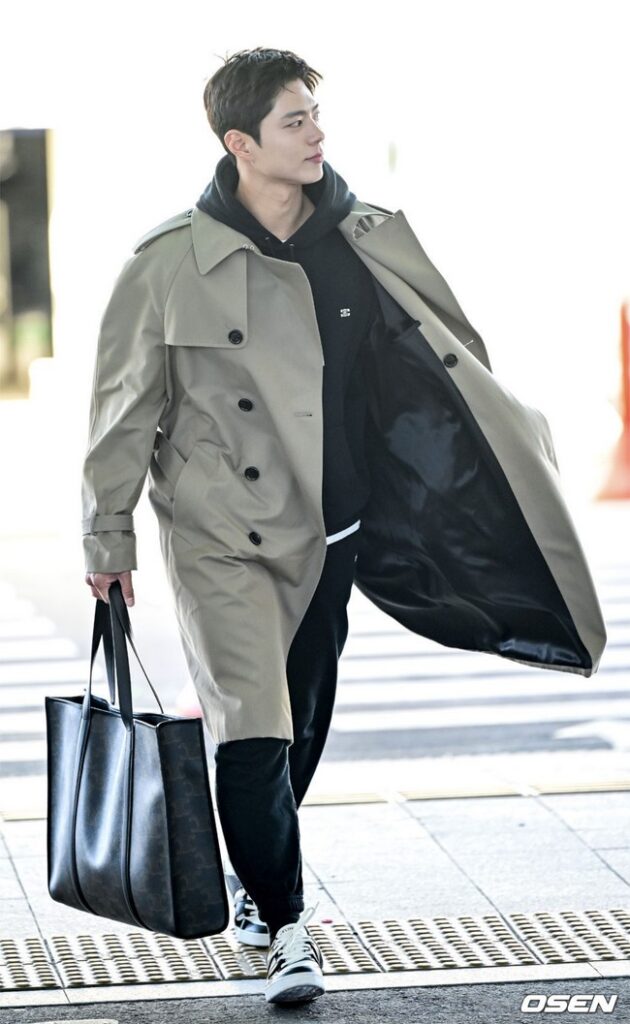 The large tote bag that he coordinated together is the Celine Triope canvas XL. On the Celine Triope canvas, the addition of carp skin trimming brings a touch of opulence and luxury to the overall design.
Is it that Park Bo Gum's hands are particularly large, or is his face simply petite? 🤔
Park Bogum FAQs
Park Bogum Wife?
As of now, Park Bo Gum remains unmarried and has not officially confirmed any romantic relationship.
Park Bogum Dramas
Park Bo Gum has graced the screens in multiple dramas, showcasing his remarkable acting talent and winning the hearts of viewers. Some of his notable dramas include
Record of Youth (2020)
Encounter (2018-2019)
Love in the Moonlight (2016)
Reply 1998 (2015-2016)
Park Bogum Instagram
Park Bo Gum's official Instagram account was @BOGUMMY (https://www.instagram.com/bogummy/).
Park Bogum Latest Drama
Park Bogum's lates drama is Record of Youth (2020) but he has starred in the movie "Seo Bok" in 2021 and and also featured in a tv show called"Young Actor's Retreat" in 2022.
*Photo credits shown at the bottom of each photo