Hey K-beauties!
This time I am posting a review that is not K-beauty related but hopefully, some of you might find it helpful. This is my review on Mejuri Jewelry Box!
🙌 Intro
Why I bought Mejuri Jewelry Box
I think I've never taken a serious thought on organizing jewelry. I've been using a cheap opened organizer for most of my earrings and zip bags for a couple of precious items. I just wanted them to be easily seen in order to wear them more often.
Then one day I was watching this YouTuber reviewing her personal jewelry collection. There she took out all her jewelry from this nice, neat leather jewelry box, and I instantly fell in love with it. That box was Mejuri jewelry box.
Where I Bought and How Much I paid
As of now, Mejuri products seem to be only available on its official website or its offline stores in some cities – New York, Boston, San Francisco, LA, Austin in the US, and Toronto, Canada. I don't live in any of these cities so I bought it online.
When I started to search it on Mejuri.com, the price tag ($150) made me hesitate. $150 for a jewelry box?! I could get a piece of nice jewelry at that price. However, looking at all my jewelry inside crinkled zip bags made me wonder if I'm not treating them properly with the least care or protection. And jewelry box is not something you have to frequently exchange, right? So I made a decision. To buy it and use it forever(!) 😉
Luckily, soon after started the Black Friday promotion (woo hoo!) in Mejuri site, so the final price became $135 after getting 10% off promotion. Including tax, it came right under $149.
Mejuri Shipping Experience
Shipping was fast albeit the hectic Black Friday / Cyber Monday season. I made an order on 11/27 (Fri). It was shipped on 12/2 (Wed) then arrived on 12/5 (Sat). It took almost a week including the weekend so wasn't too bad! But it might depend on where you live. The package was shipped from Toronto by Fedex.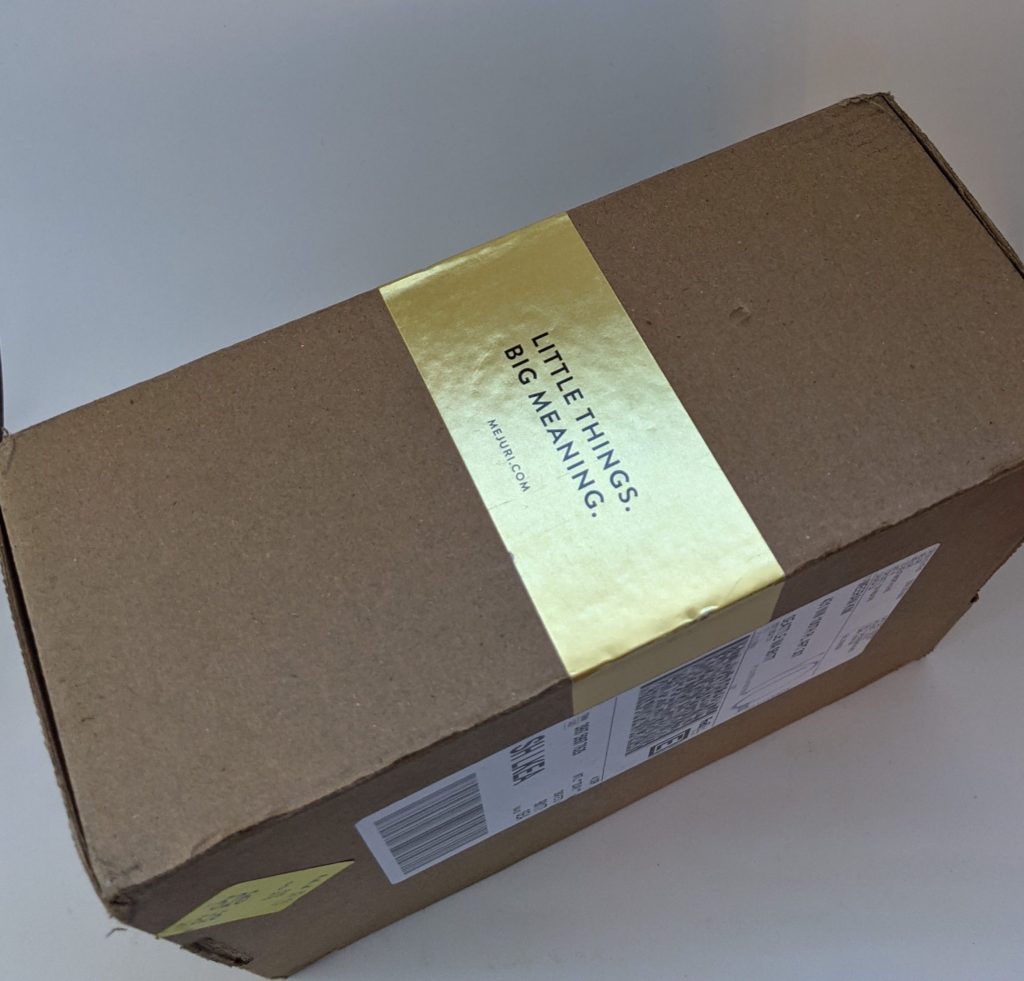 🔎 Mejuri Jewelry Box Review
Straight to the point, I really like this jewelry box, and here are whys.
Except for some very large earrings, I could gather all my jewelry pieces (over 30 pieces) into this one box – which is so nice! Now I don't have to look for different zip bags or small accessory trays for my jewelry pieces. 
Mejuri jewelry box comes with three stackable, large trays (20cm x 17cm x 2cm) with different compartments. I love the flexibility coming from these and love that I can put my chain watches (that can lie flat) in this box too. 
Design is one of the key values of this jewelry box. Its exterior look is just simple and clean. Period. Its leather texture gives a luxurious and warm feel. Out of black and beige, I chose beige and it fits perfectly with any settings or color backgrounds.
👀 Pro Tip: you can also engrave a monogram (up to 3 characters) on the bottom part of the lid box. Somehow I forgot to make the request but hope you don't if you want to make it customized.
You can keep your jewelry pieces better protected and cared for, preventing them from scratches or tarnishing. That is because you can now separately contain your jewelry piece by piece in different compartments. Another benefit is that their interior linings are anti-tarnish microsuede so it will help your silver or plated jewelry pieces better cared for.
❓Q&A
Is Mejuri jewelry box high quality?
Based on my 4 months experience, I would say yes. The design, external box design and leather finish, interior compartments are all seamless and well made.
What should I look for in a jewelry box?
I think you can treat a jewelry box like piece of furniture – a tiny one! Because you don't change it much unless you buy jewelry pieces in aggressive pace. So I think you should look for durability and design.
You also have to remember the purpose of a jewelry box is to better maintain jewelry pieces and to protect them from dust or getting tarnished. So the size, compartments, and any protective elements should be on your checklist.
Is Mejuri jewelry worth it?
Again, $150 was not an easy call when I initially thought about a jewelry box. However, when I had a second thought about it, I realized that a jewelry box is something you don't change a lot in your lifetime so it can be like a piece of furniture. Considering the high quality and the benefits that I got from Mejuri jewelry box, I believe it worth $150.
👋 Outro
Do you have anything to say about Mejuri jewelry box or your own jewelry box? Or do you have any questions on this post? Let me know in the comment section. I hope this post was helpful for anyone needed!