Have you tried or used tattoo stickers before? I haven't until I tried some from Freaky Nine. I was loosely interested in having a tattoo. I thought they're cool but was never serious about having one. I knew there were tattoo stickers out there, but didn't really think about trying them. After trying ones from Freaky Nine? Check out my honest review in this post.
How I got to know Freaky Nine
Freaky Nine is a Korean tattoo sticker store. They work with 10 Korean tattoo artists who have unique drawing styles. Thankfully, Freaky Nine team reached out to me and sent me some products to try them out.
Browsing their website, I found their stickers really cute and easy to apply – they are waterless tattoos with a patent in Korea. Their FAQ section (far below) was pretty solid to address some of my questions including is it safe to use. So I decided to give it a try!
Unpacking Freaky Nine Stickers
The package included 5 tattoo stickers and 5 sets of alcohol swabs. It was great to find out that each sticker includes 2 pieces. Each sticker costs around $10~$12 so I think it's quite a good price.
Each packet consists of 2 stickers and the how-to instruction sheet. The instructions are very clear and easy to follow.
Tatto Sticker Instruction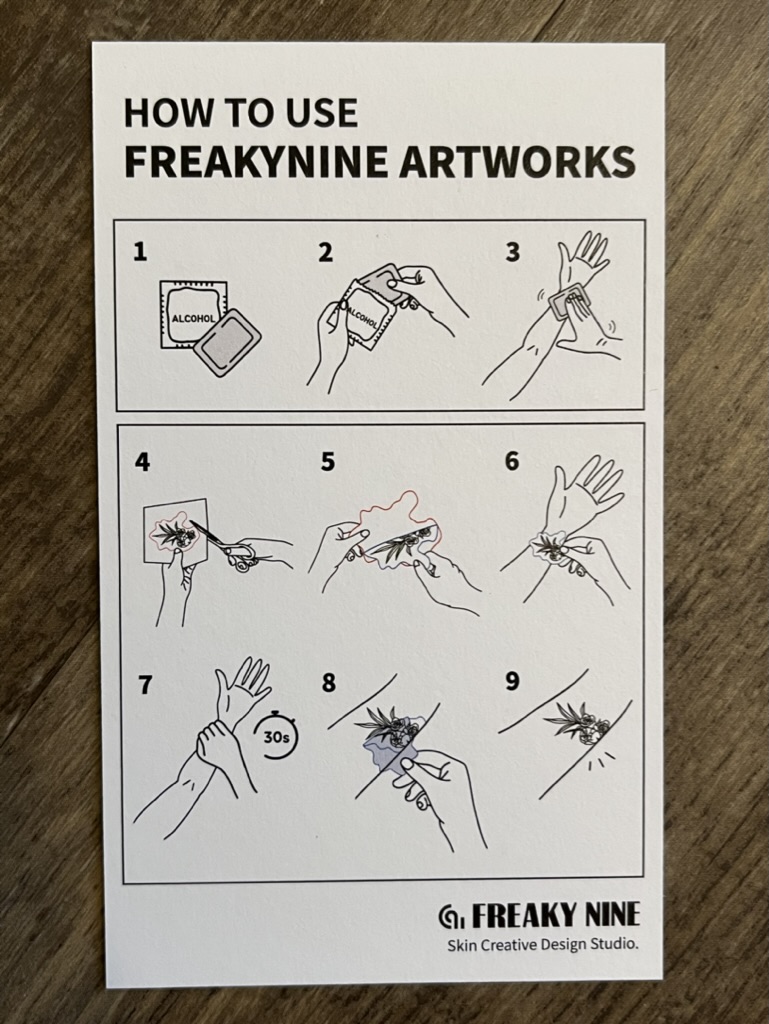 Design Name: (242) Nan Chun (爛春) – Warm Spring
Design Name: (Kaya) Rabbit
Design Name: (Wana) tie up 
Design Name: (Urban) X-ray
Design Name: (Haesi) Spring and Summer's Butterfly
Applying Freaky Nine Stickers
Following the instruction card, it was super easy to apply the stickers. You just rub the area you want to put the sticker with an alcohol swab included. Then you cut out the sticker (*pro tip: don't cut it too close to the drawing. That's what I did on the 1st trial but it was easier for me to remove the film when the cut area was larger on the 2nd trial). Then press on the sticker to the area for about 30 seconds and lift the film. That's it!
Trial1
Trial 2
Freaky Nine Tattoo Stickers – do they look real?
It looked quite real! The first day, there was a little bit of white residue of the sticker film but they were not noticeable. The website says they disappear with a wet wipe or, naturally, with time and indeed they disappeared the next day. So I would say the next day after you apply the sticker looks most natural and real.  The products are also water resistant and do not erase easily when wet. 
Day 1
Day 2
The stickers looked more natural and real. 
Day 3
They still looked good.
Day 4
The stickers started to chip off here and there.
Day 5
They chipped off further so I removed them during the shower. I didn't use oil-remover as instructed but they easily peeled off just with fingers while after I was in the hot shower. 
Freaky Nine Tattoo Stickers – Will I buy/use them again?
Yes! Tattoo has always been the world I could not access because of fear and I can say that the tattoo stickers are the game changers. I really like the designs of Freaky Nine stickers and how easy they are to apply and remove. The lasting period of 2-3 days are not bad for experiencing different moods with the tattoos. I look forward to next Summer to try out bolder, bigger designs!
If you're interested, check out their website – they also provide global shipping!