Why I tried d'Alba Spray Serum
D'Alba is a relatively fresh face in the K-beauty world, but it's been making waves with numerous reviews, posts, and videos covering their various products like the spray serum, double serum, and sunscreens in recent years. Among these, D'Alba's First Spray Serum has garnered quite a bit of attention for being a unique 'all-in-one' mist that combines serum, oil, and water in a single bottle. While I don't usually consider mist a daily essential in my routine, my curiosity got the better of me, and I decided to give it a shot.
What does d'Alba Spray Serum Do for your skin?
d'Alba Spary Seurm is all about boosting moisture and locking it in. What sets it apart is the visible separation of two layers: serum and oil. When you mix these two, you get an extra punch of hydration. Plus, the oil it contains is plant-derived, so it's designed to keep your skin from getting overly oily.
---
My journey with d'Alba Spray Serum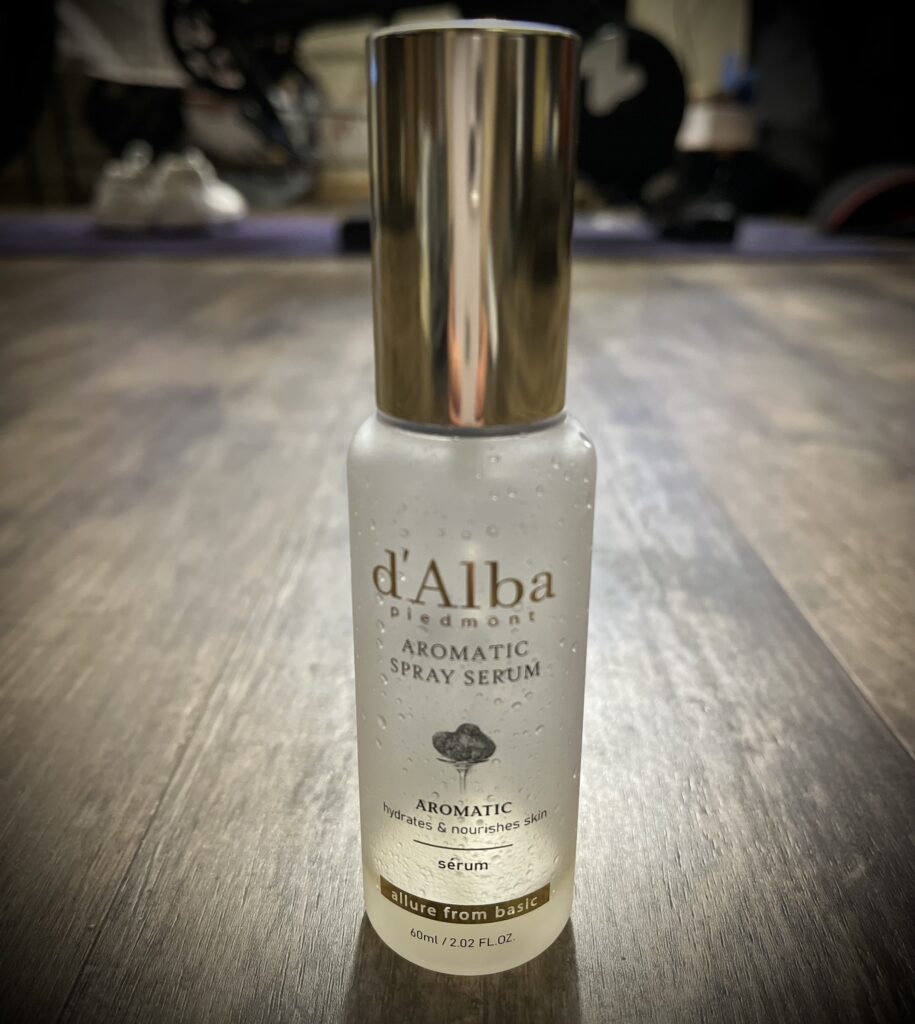 It's interesting to note how my experience with the d'Alba Spray Serum has evolved over the past year. Sometimes, a product that may not have seemed essential at first can prove to be quite handy in specific situations.
For instance, I had hundreds of tiny verruca plana ("wart") across my face and over the neck. I had a laser treatment to remove them – did you all know that warts are actually virus and they can be contagious?! – and could not properly apply moisturizer until the scabs were gone. d'Alba Spray Serum came to the rescue as a non-invasive way to provide moisture without having to touch my face.
Additionally, during my international flights this summer, the d'Alba Spray Serum came in handy once again. Not only did it provide instant hydration, but its aromatic quality also offered a soothing and calming experience on the plane. It's interesting how my perceptions of scents can change in different environments, and it appears to have been a pleasant surprise for me in the confined space of a flight. (I usually found its aroma too strong in normal occasions)
d'Alba Spray Serum How to Use
When it comes to using d'alba Spray Serum for your skincare routine, you have the flexibility to spritz as much as you like immediately after cleansing. This will help infuse your skin with moisture and essential nutrients, and you can incorporate it at any stage of your skincare routine.
If you're preparing for or finishing your makeup application, make sure to shake and spritz the serum before applying makeup to prep your skin. You can also use it after you've completed your makeup, to impart a radiant glow.
💡For individuals with oily skin, you can choose not to shake the product in order to use a lesser amount of oil.
d'Alba Spray Serum Ingredients
Ingredients Highlights
Rosa Damascena Flower Water: Rose water, often used for its soothing and hydrating properties.
Niacinamide: A form of vitamin B3 known for its skin-brightening and anti-aging benefits.
Avocado Oil: Rich in fatty acids and vitamins, it's moisturizing and nourishing for the skin.
Panthenol: Provitamin B5 that helps with skin hydration and healing.
Hibiscus Extract: Contains antioxidants and can have a skin-smoothing effect.
Rosa Damascena Flower Water, Dipropylene Glycol, Neopentyl Glycol Diheptanoate, Water, Glycereth-26, 1,2-Hexanediol, Niacinamide, Tuber Magnatum Extract, Tocopherol, Hydroxyethyl Urea, Butylene Glycol, Persea Gratissima (Avocado) Oil, Betaine, Glycerin, Panthenol, Helianthus Annuus (Sunflower) Seed Oil, Sorbitol, Dipotassium Glycyrrhizate, Disodium EDTA, Tocopheryl Acetate, Adenosine, Bifida Ferment Lysate, Camellia Japonica Seed Oil, Hibiscus Esculentus Fruit Extract, Macadamia Ternifolia Seed Oil, Oenothera Biennis (Evening Primrose) Oil, Olea Europaea (Olive) Fruit Oil, Glycine Soja (Soybean) Oil, Arginine, Bellis Perennis (Daisy) Flower Extract, Carbomer, Freesia Refracta Extract, Houttuynia Cordata Extract, Leontopodium Alpinum Extract, Lilium Candidum Flower Extract, Morus Alba Bark Extract, Nelumbo Nucifera Flower Extract, Ocimum Basilicum (Basil) Flower/Leaf/Stem Extract, Panax Ginseng Root Extract, Saussurea Involucrata Extract, Chamomilla Recutita (Matricaria) Flower Extract, Hibiscus Sabdariffa Flower Extract, Lavandula Angustifolia (Lavender) Flower Extract, Melissa Officinalis Leaf Extract, Mentha Piperita (Peppermint) Leaf Extract, Mentha Rotundifolia Leaf Extract, Monarda Didyma Leaf Extract, Rosa Centifolia Flower Extract, Rosmarinus Officinalis (Rosemary) Leaf Extract, Salvia Officinalis (Sage) Leaf Extract, Sparassis Crispa Extract, Sodium Palmitoyl Proline, Potassium Sorbate, Avena Sativa (Oat) Kernel Extract, Hippophae Rhamnoides Fruit Oil, Hydrolyzed Hyaluronic Acid, Salvia Hispanica Seed Extract, Centella Asiatica Extract, Hamamelis Virginiana (Witch Hazel) Extract, Portulaca Oleracea Extract, Scutellaria Baicalensis Root Extract, Bixa Orellana Seed Oil, Nymphaea Alba Flower Extract, Fragrance, Hexyl Cinnamal, Limonene, Linalool, Citronellol
d'Alba Spray Serum Price
d'Alba Spray Serum comes in two sizes; 60ml(2.02 oz) and 120ml(4.05 oz). The price of a regular size (60ml) is $32 while the jumbo one(120ml) is $45.
What I like about d'Alba Spray Serum
I like the fact that d'Alba Spray Serum is moisturizing and nutrient compared to other mists. It is actually more than just a mist and closer to a serum that is in a format of a spray.
I also like it is not oily or heavy yet provides moisture that lasts.
Another pros is that you don't need to rub or pat the product. You just spray it, and you're done. It's a wonderful product for a lazy person like me hehe
What I don't like about d'Alba Spray Serum
I don't like its strong aroma (except for when I use it in a plane where I need something that distracts or refreshes me 😂). It feels quite strong to me and I'm a person who prefers weak or rather subtle aroma. It is citrusy and refreshing though.
d'Alba Spray Serum Product Information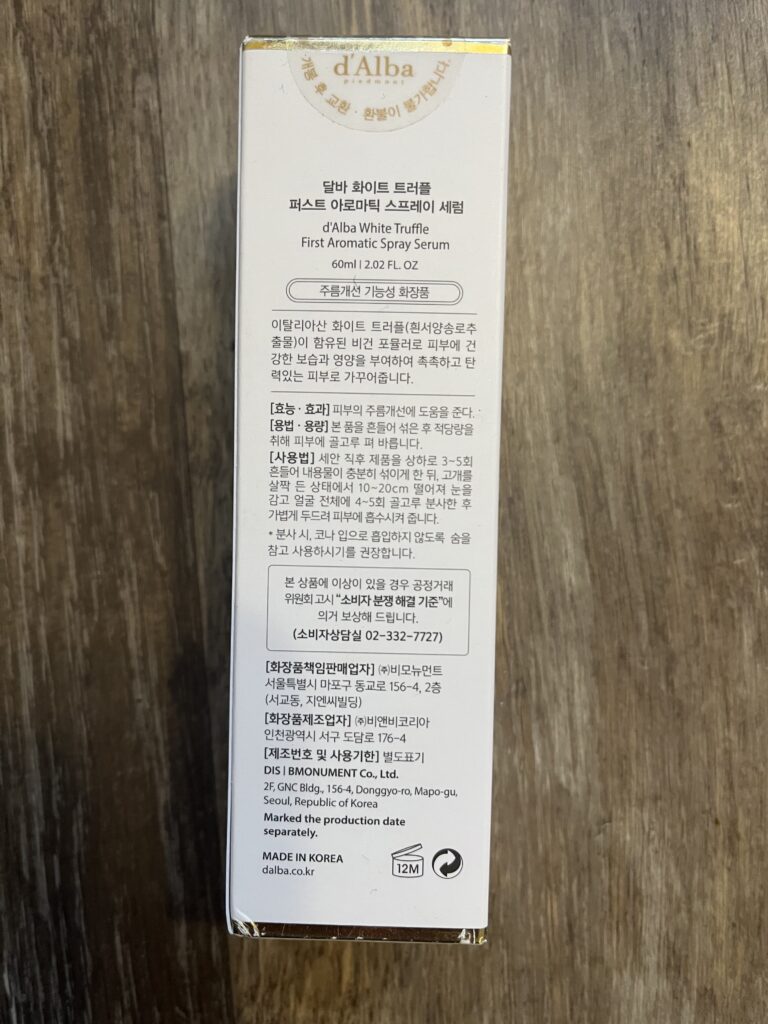 Product Name: d'Alba White Truffle First Aromatic Spray Serum
Size: 60ml(2.02 oz) & 120ml(4.05 oz)
Skin Type: All
Usage: 12 months after opening
Manufactured in Korea
This vegan formula contains Italian white truffles (white truffle extract) and provides healthy moisture and nutrition to the skin, making it moist and elastic.
[Effectiveness/Effectiveness] Helps improve skin wrinkles.
[Usage/Dosage] Shake this product to mix, then take an appropriate amount and spread evenly on the skin.
[How to use] Immediately after washing your face, shake the product up and down 3-5 times to mix the contents well. Raise your head slightly, distance yourself 10-20cm, close your eyes, and spray evenly over the entire face 4-5 times. Tap lightly to absorb into the skin. When spraying, hold your breath so as not to inhale through your nose or mouth.
Conclusion
If you're in search of a hydrating mist for regular skincare or to prep and set your makeup, I highly recommend trying out d'Alba Spray Serum. If you're into skincare with a little extra something, d'Alba Spray Serum brings a zesty and refreshing citrusy scent to the table. It's like a mini aromatherapy session for your skin routine, adding that extra dash of delight.
*This post contains an affiliate link that help support the blog