Ive arrived at Gimpo International Airport for their trip to Tokyo, and Wonyoung looked absolutely fabulous in her all-black outfit from head to toe.
Wonyoung's outfit reminds me of the iconic style from The Matrix movie 😎 The combination of the black long leather jacket and mini skirt creates a chic and stylish look.
Wonyoung's Jacket
It is a maxi length leather jacket with unique design lines.
Wonyoung's Skirt
This is a simple H-line skirt with a low-rise design, complete with a wide belt that adds a stylish touch. What sets this skirt apart is its detachable belt, giving you the flexibility to wear it with or without the belt to suit your fashion preferences.
Wonyoung's Top
This top features a feminine design with a built-in scarf that hangs gracefully in the front and back. I think it will well combine with jeans as a standout element in your outfit!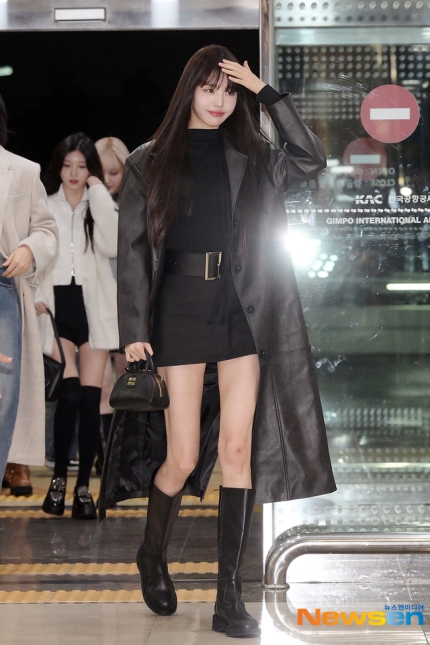 Wonyoung's Boots

These are classic, standard-fit boots with a minimalist design and a modest 4.5cm heel.
Overall, Jang Won Young continues to impress with her stunning look 🙂